Whenever you use your THFCU Credit Card, you earn points for your purchases. Those points add up – literally – to incredible rewards.
Log in at uchooserewards.com and register your THFCU Credit Card to get started. As you earn points, check back to see how much you've accumulated and what you're able to spend it on. With thousands of merchandise/travel options and massive point-earning potential, you'll have the luxury of making many exciting decisions.
Register your card today. If you don't yet have a THFCU Visa Credit Card, your first decision could be your easiest – Decide to apply today!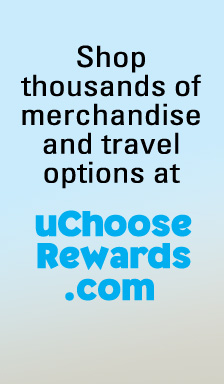 Your house is telling you something. Whether its critters, appliances or ownerinflicted disasters, there is always room for improvement with a home equity loan from your credit union.
Borrowing against the equity in your home is a low cost way to reinvest in your greatest asset - improving your living conditions and the value of property. Rates are extremely competitive and terms can go as long as 20 years. For those that still itemize deductions, there's a good chance the interest you pay will be tax deductible (but consult your tax advisor to be sure.)
Choose a traditional home equity loan (borrowing in one lump sum) or open a line of credit and borrow only what you need when you need it.
And if your idea of improvement is found outside the home, know that you can use your home equity funds for any reason. Improve your finances by consolidating debt into one low payment. Improve your brainpower (or someone else's) by funding college tuition. Improve yourself with a well-earned dream vacation.
The choice is yours, and the path toward improvement starts at THFCU. Ask to speak with one of our lending professionals, and we'll get you started.
Improvements without the Equity
No equity? No problem. THFCU is one of the top lenders in the Minnesota Housing & Finance Agency's Fix Up program. If you have a household income of $125,900 or less, you're eligible to apply for up to $15,000 for your next improvement project. Borrow up to the same amount with no income restrictions for energy-friendly projects.
Loan rates presented are the lowest available, may include relationship discounts (up to 0.5% APR) and may change dependent on credit history, collateral, or term.


Get behind the wheel and hit the gas. It's time for a new ride, especially now that it's more affordable than ever. THFCU recently dropped auto loan rates to our lowest levels this year, and with 1% cash back for loan preapproval you'll borrow for less while putting cash in your pocket.
Cash Back – The easiest money you'll ever make
THFCU members love our cash back pre-approval program because it rewards them for taking advantage of an easy-to-use benefit. Simply call or visit THFCU to request pre-approval. Then shop the dealers with the advantage of knowing you've already funded your purchase. Once you find the vehicle of your dreams, write a check for the purchase amount and return to THFCU with your purchase agreement. We'll cover the check by funding your loan, and will give you 1% of that loan amount back, in cash!
Ready to hit the road? We're ready for you. Call or visit today!
Loan rates presented are the lowest available, may include relationship discounts (up to 0.5% APR) and may change dependent on credit history, collateral, or term. Cash-back offer must be approved by THFCU prior to purchase and is subject to verification of security interest. APR = Annual Percentage Rate.


Everyone could use a little extra cash over the holidays. Hold on to yours by skipping your monthly THFCU loan payment.
Qualified members can skip eligible loan payments once in a 12-month period. Request a Skip Payment at our 11th Street location or click here for an application.
Skipped payments are subject to approval. One skipped payment per 12-month period, three maximum over the life of the loan. Note interest will continue to accrue during the skipped period, and a $25.00 skip fee will be assessed upon approval. Complete terms are found on the Skip Payment application.


You've got big plans this summer. Don't let a big monthly payment get in the way.
Consider the MORE4LESS loan, a unique program that looks like a lease but actually lets you build equity in your purchase. Borrow up to the full amount of your car or truck, but enjoy a payment calculated on only a portion of the debt.
Compare the monthly obligation on a Chevy Equinox in the example to the right. Big savings!
When your loan term is complete, you have the option to pay off the remaining debt or simply turn in the vehicle and walk away.Any remaining equity is yours, and can be applied to your next purchase.
Compare payment amounts on hundreds of makes and models – visit our More4Less calculator
MSRP quoted includes applicable rebates/discounts. Traditional loan assumes 36 month term, 3.44% APR.MORE4LESS loan assumes 36 month term, 4.44% APR, a $14,875 residual, and a $295 program fee. Rates dependent on credit history, collateral, and term.

Save Money, Win Cash with a WINcentive™ Savings Account
If you're looking for more excitement in your THFCU savings, consider WINcentive, a new savings account that offers members the chance to win cash prizes from a state-wide, credit union exclusive drawing.
Every time you increase your savings balance by $25 month-over-month, you'll receive one entry into the drawing (up to four per month). Prize drawings occur monthly, quarterly and annually, giving you hundreds of chances to win every year.
Your THFCU WINcentive savings account earns dividends, too. Increasing your balance not only increases your chances of winning, it also gets you closer to your savings goal.
Ask about WINcentive and start saving – and winning – today!
2019 Statewide Prize Drawing Schedule
Prize Drawings
Number of Winners
Prize Amounts
Drawing Dates
Monthly
45
$100
10th of each month
Quarterly
4
$1,000
10th of each month
Annually
1
$5,000
January 10, 2020
Total in 2019
557
$75,000
Winning one prize category (monthly, quarterly, or annual) does not disqualify a participant from winning a different prize category within the same year. Drawings will occur on or about the 10th of each month, or the next business day, for the previous month and/or quarter end. Prize Amounts are estimates and subject to change.


Introducing Remote Deposit! Now you can deposit checks to your THFCU accounts any time using your smart phone or tablet.
Enrolling is free and easy. Simply call our office or complete and return the user's agreement found Go there .
Once enrolled, we'll give you access to our remote deposit app. Snap a photo of the front and back of your endorsed check, confirm the check amount, and upload it to us. In most cases, we'll post the funds on the next business day.
Remote Deposit is another free service of Two Harbors Federal Credit Union.